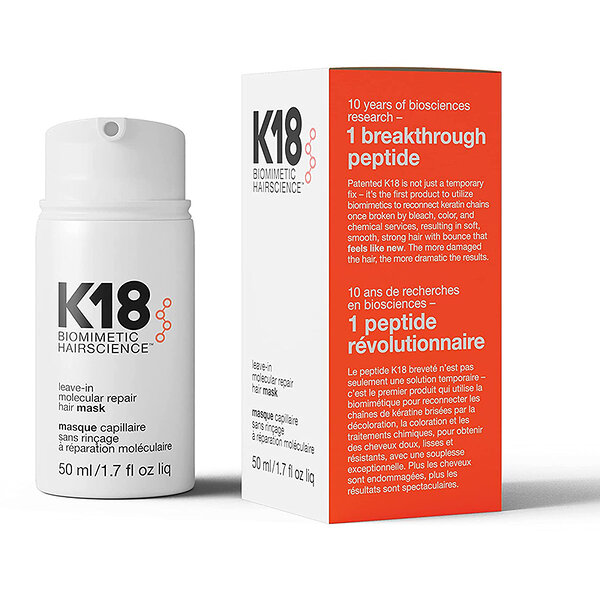 K18PEPTIDE™ is a biotech-developed peptide that mimics hair's structure to reverse damage by reconnecting polypeptide chains and disulfide bonds broken during bleaching, color, and chemical services

pH-optimized (5.0-6.0) to help minimize cuticle swelling + put hair proteins in their most resilient state

Cream format enables easy, lightweight application across all hair types, with detangling and softening benefits

Vegan, color-safe, cruelty-free
HOW TO USE:
Shampoo, do not condition.
Towel-dry thoroughly.
Begin with 1 pump and add more as needed. Maximum recommended usage is 3 pumps.
Apply all over, 1 pump at a time.
Let sit for 4 minutes. Do not rinse out.
Comb, add product + style as usual.
Use for 4-6 washes, then as needed.
1 pump = 1 ml
How to optimize K18
DO clarify before K18 if you're a heavy product user (demineralize for mineral + metal buildup)
DO apply on clean, damp hair
DO wait the full 4 minutes before combing or styling
DO add whatever styling products you love after the 4 minutes
DO use for 4-6 shampoos consecutively for progressive results
DON'T use conditioner before applying K18 Mask (you can apply after the 4 min but most find they don't need it)
DON'T overdo it—less is more
DON'T rinse it out
KEY BENEFITS

Takes damage repair further – reconnects both polypeptide chains (and as a result, also reconnects disulfide bonds) for strength along the length + width of the hair - offering comprehensive, lasting damage repair

Restores hair from even extreme damage - by working at the innermost layer of the hair, core strength and elasticity are renewed for strong, smooth, bouncy hair

Delivers immediate and lasting results – hair is repaired from the first use and lasts past your next wash, for ongoing reparative benefits

Simplified repair - convenient, leave-in formula works in just 4 minutes, with no extra rinse required

Works on all hair types – because K18PEPTIDE™ works on a molecular level (where all hair is the same), this product is effective on all hair types

INGREDIENTS:
Water (Aqua) (Eau), Alcohol Denat., Propylene Glycol, Cetearyl Alcohol, Dicaprylyl Ether, Cetyl Esters, Behentrimonium Chloride, Polysorbate 20,sh-Oligopeptide-78 (K18Peptide™), Hydrolyzed Wheat Protein, Hydrolyzed Wheat Starch, Isopropyl Alcohol, Tocopherol, Phenoxyethanol, Potassium Sorbate, Citric Acid, Fragrance (Parfum), Geraniol, Linalool, Hexyl Cinnamal, Benzyl Alcohol.

K18 Biomimetic Hairscience Leave-in Molecular Repair Hair Mask
K18 LEAVE-IN MOLECULAR MASK
A leave-in treatment mask that works on the molecular level to reverse hair damage in just 4 minutes. The
K18PEPTIDE™
is clinically proven to repair damage from bleach, color, and chemical services – with immediate and lasting results to restore strength, softness, smoothness and bounce to hair.
5ml-12,50€ / 2500€-liter
50ml-75€ / 1500€-liter